Clinical studies performed by top researchers at multiple globally reputed institutions & hospitals evaluated the impact of moder/ate™ on carb rich foods and sugars.
GOLD STANDARD STUDY DESIGN

University & Hospital led

Placebo-controlled

Double blind

Tested on both men & women

Safety established
WHAT WE FOUND!
Clinical studies with Moder/ate™ (powered by glubloc™), concluded that intake of Moder/ate™ 10 min before a carb heavy meal or a sugary drink can significantly reduce the impact on blood glucose & insulin levels.
Let's moder/ate
Helps *Up to 40% in glucose & insulin surge post carb heavy meal or sugary drink intake.
Helps *Up to 40% in calorie impact of complex carbohydrates or sugars.
*Based on the studies conducted in healthy male and female subjects
Clinical studies on moderate™ have shown to reduce postprandial glucose spike by upto 40% post carb or sugar intake
Your browser does not support the video tag.

moderate™ reduced the surge in blood glucose levels by up to 40% post 300 g cooked rice intake.
moderate™ reduced the surge in blood glucose levels by up to 40% post 70 g sugary drink intake.
Your browser does not support the video tag.
Listen to what others have experienced with Moderate!
60%
Feel energised longer
70%
Better focus post meal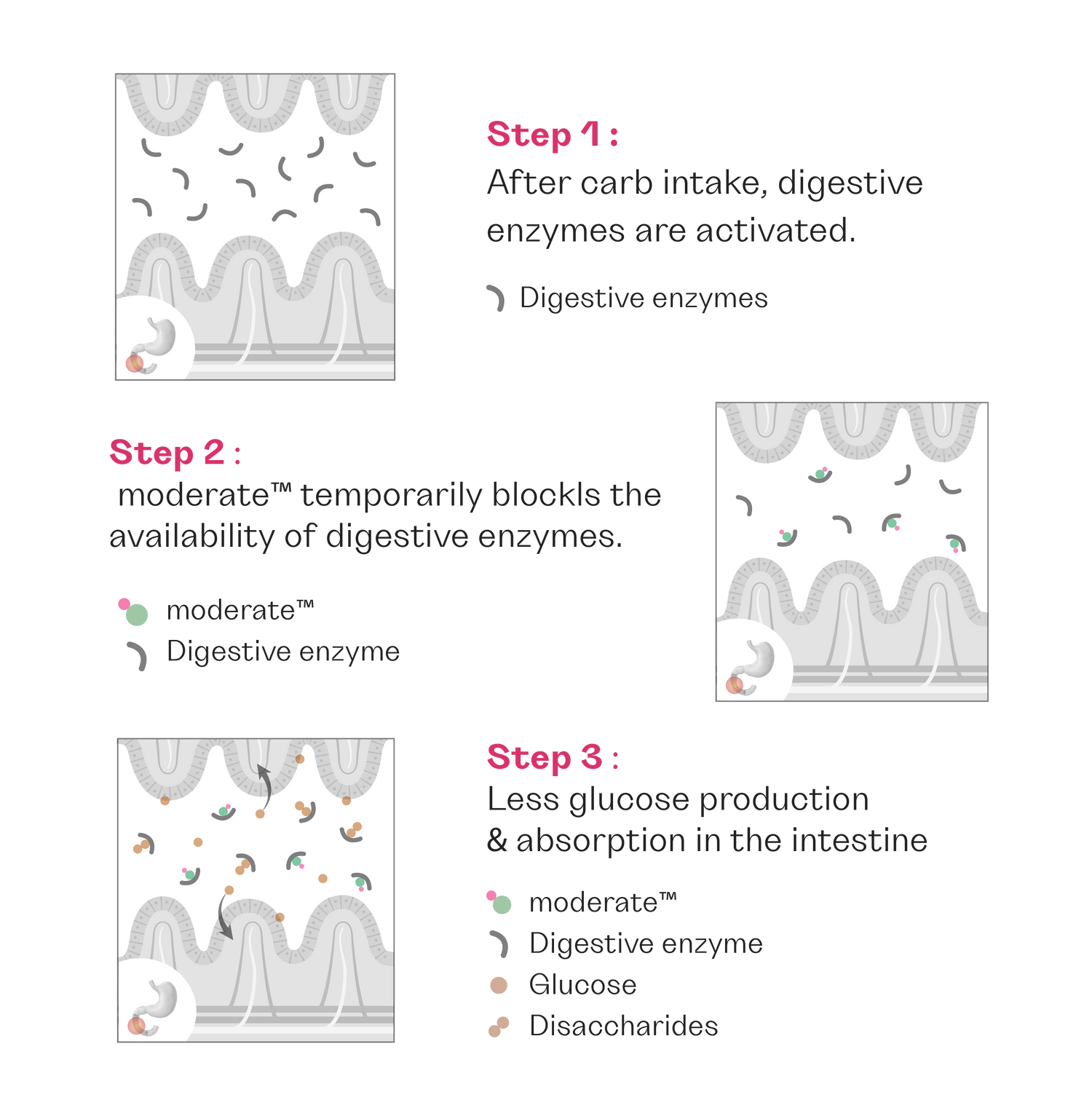 Scientific studies identified that "moderate™" can block the enzymes responsible for converting carbohydrates to sugars and improve insulin sensitivity, there by help manage blood glucose levels and aid weight loss
Click here to know more!
Our Scientific Leadership Team
DR. Lalitha Reddy. P
MBBS, MD, DNB, FICR,
MBA in Hospital Administration,
AMPH (Indian School of Business)
Dr. Lalitha Reddy, a medical specialist with over 25 years of experience and an alumni of prestigious institutions like JIPMER, NIMS, Osmania General Hospital, ISB & IIM B. She is the former Vice President of Yashoda Group of Hospitals, Professor & HOD at Mahatma Gandhi Institute of Medical Sciences & Vice President of Telemedicine Society of India – Telangana Chapter. She is a very accomplished academic and scientific trailblazer with many awards and gold medals to her credit. She has many scientific research articles published in various national and international journals, delivered over hundreds of lectures both in India and abroad and is an author of two books.
Her profound commitment to wellness and preventive health has served as the bedrock for the creation of the product Moder/ate, which helps manage post prandial blood sugar levels safely and effectively, whenever needed.
Dr.Manohar Reddy. P
MBBS, MD, DNB
Medical Gastroenterologist
Dr. Manohar Reddy is a highly experienced Medical Gastroenterologist with a remarkable three decades of dedicated service in the medical field. He possesses an unwavering passion for providing exceptional patient care, always going above and beyond to ensure their well-being. Dr. Reddy's expertise extends beyond clinical practice, as he has also made significant contributions to medical education. He has delivered numerous insightful lectures and actively participated in live workshops, imparting his knowledge and mentoring numerous students and young doctors.
Dr. Prem Sunder. T
MBBS, MS, MCh
Consultant Plastic Surgeon
Dr. Prem Sunder is a highly regarded and distinguished senior plastic surgeon, renowned for his expertise in both reconstructive and cosmetic surgery. With a profound dedication to his craft, he demonstrates exceptional drive and skill in his field. Driven by a passion for precision and excellence, he consistently strives for the highest standards in every procedure he undertakes.
Dr. Chaitanya Gali
Consultant & Advisor
M Pharm, PhD
Dr Chaitanya Chakravarthi Gali is a PhD in Human medicine with more than 10 years of research expertise with special focus on metabolic and cardiovascular disorders, He is specialized in understanding the interplay between type-2 diabetes and memory disorders. He graduated from Medical University of Graz (Austria), and a resident scientist at Mayoclinc & University of Minnesota (USA). His work led to the discovery of moderate, a clinically and science backed 100% botanical extract to help moderate blood glucose and insulin spike post-meal. Its a great addition to individuals to complement their journey towards a sustainable lifestyle and conscious eating habits.